Al Zobair Stud – A Bold Vision Recognized
Upon first glance, one will find Al Zobair to be a consummate reflection of its visionary, Sheikh Abdulla. A dignity and an elegance, clothed in magnificent beauty, can be appreciated in its horses, its property, its staff, and most of all its horses.

After realizing tremendous success in Arabian racing, Sheikh Abdulla's heart was tugged toward beauty more than speed. In 2001, he launched his entrée into the show horse world with four profound foundation mares: Maliha Bouznika, MM Jareefa, Khameela and last but not least, the impeccable Palestra. And while all four mares paid forward into the success now realized by Al Zobair, it was Palestra who set the tone for the role that both Al Zobair and Sheikh Abdulla would play in today's global Arabian horse industry.
Let me explain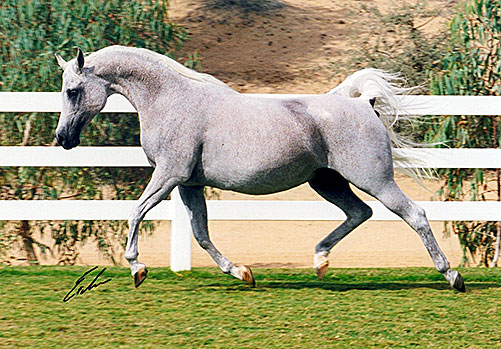 There is an active and intentional layering of beauty happening at Al Zobair that is reminiscent of the way Director Ignacy Jaworoski constructed the important E Line of Michalow Stud. Alongside Mother Nature, both Jawaroski and Sheikh Abdulla pursued their vision of beauty, doggedly unwavered by status quo and laser focused on the vision of their own definition of beauty. Both men have, and had, a magnificent class about them, and a pristine approach to the Arabian horse. Interestingly, the two men not only shared similar principles… they also shared the vision of two mares – one being of the illustrious E Line – who both began life as the vision of one, and ended her life as the vision of the other. Esklawa (out of Ekstaza) and Palestra (out of Patera) were born at the hallowed halls of Michalow, and later became a foundation for Al Zobair's evolved vision. The influence of both mares, through insightful and courageous breeding initiatives by Sheikh Abdulla himself, bear pause and reflection.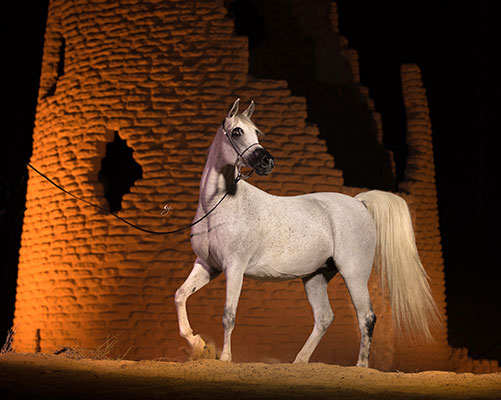 Palestra's influence on the Al Zobair program ran so deep that Sheikh Abdulla personally traveled to Poland later to buy a precious jewel from the family he so loved: Palestra's granddaughter, Pistoria, who continues her influence on the world-class horses of Al Zobair to this day.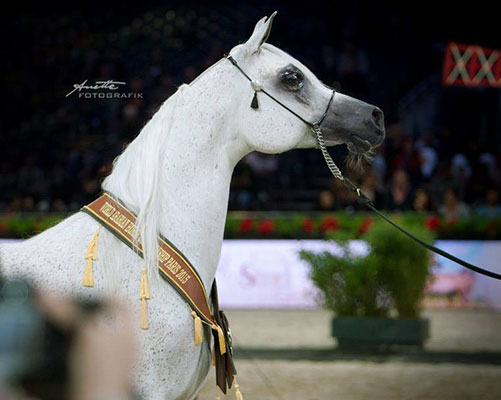 As an individual, Esklawa already wore a purple robe when she arrived to Al Zobair, simply based on her profound pedigree. Yet Sheikh Abdulla saw in her the potential for unsurpassed greatness. Under the banner of Al Zobair, Esklawa gave his program many gifts. But in a move that would write history, Sheikh Abdulla introduced his Polish E Line princess to the mighty Marajj, and the result was ground breaking. Salwa Al Zobair was a thing of unearthly beauty, shattering records and leaving a wake in her show ring career that climaxed with the highest honor available: World Champion Mare. And in that moment, Sheikh Abdulla surpassed the master and established himself as one of the leading breeders in the history of the Arabian horse.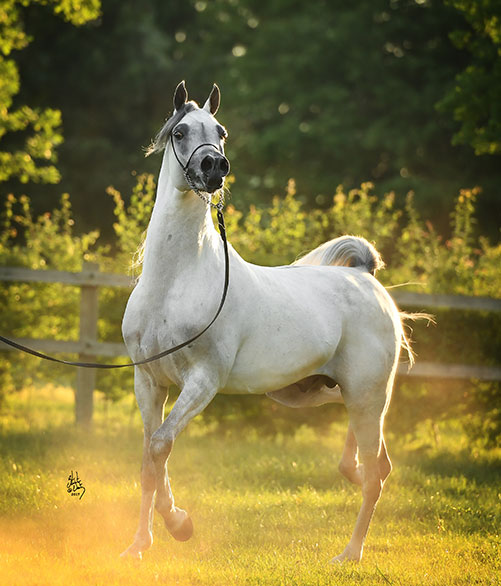 Just as these two important Polish mares represents the initiation of that strategic layer of beauty, S.M.A. Magic One is the current layer, a visualization realized by Sheikh Abdulla that has been globally respected and used the world over. As Jaworoski's E line was globally loved and respected, so S.M.A. Magic One is the contemporary modern-day layer.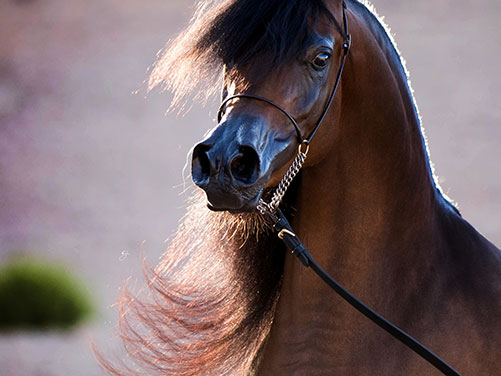 But beauty is found in many places. Sheikh Abdulla is a man who understands the beauty of balance. He productively balances a highly successful straight Egyptian program alongside an equally prosperous non-straight one. Among his foundation stock was a group of stunning straight Egyptian mares purchased from the respected program of Judy Guess in Texas, among others. Sheikh Abdulla enjoys the balance of continuing the straight Egyptian breeding of those mares primarily, while on occasion (yet with keen intention) taking one of those mares to non-straight stallions, as exampled by the beautiful Ghanadir Al Zobair (MCA Magnum Gold x Thoraya Al Zobair). The balance proves a challenging one for most breeders, but not for Sheikh Abdulla, who remains clear-sighted, perceptive and steadfast in his vision for when to breed straight, when to breed non-straight, and when to bring in outside stallions such as Egaab Al Rayyan, whose great efforts are currently being realized in his foals.
Al Zobair Stud represents a deep, guttural passion of the Arabian horse, not only by Sheikh Abdulla and his staff, but also his family as well. Sons and grandchildren own several Al Zobair horses, riding frequently on the farm with Sheikh Abdulla himself. It is a passion passed down two generations. As the grandchildren walk the pastures carrying as many carrots as they can hold, one will assuredly find Sheikh Abdulla not far away with a smile on his face in appreciation of all things beautiful.
| | |
| --- | --- |
| | |
Staff
The World-Class Staff of Al Zobair
Michael Van den Elsken, Farm Manager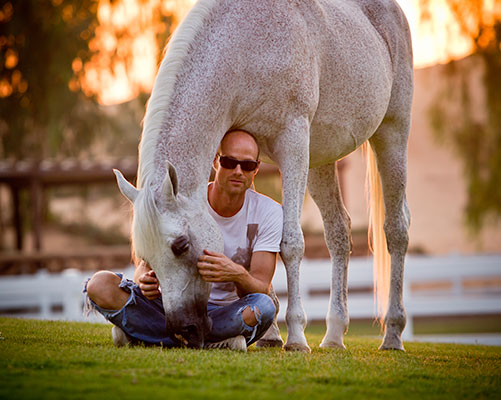 Originally from Belgium, Michael began his career at Christine Jamar's Jadem Arabians. Michael's gifted ability to run an impeccable program are surpassed only by his thoughtful, gracious, and intelligent demeanor that impeccably parallels that of Sheikh Abdulla. His management style is bound in dignity, with an unending respect shown to the horses of Al Zobair. Michael is now a permanent part of the rich tapestry of Al Zobair, a permanent fixture in the heart and soul of the program.
The Grooming Staff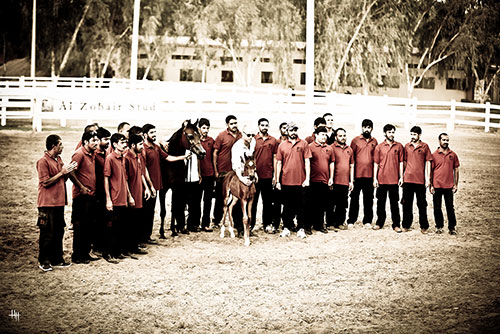 Each barn enjoys its own set of professional grooms who passionately care for the well-being of Al Zobair horses, and who actively participate in attending to foals, training horses, and handling stallions.


Sharjah Equine Hospital , Veterinary Care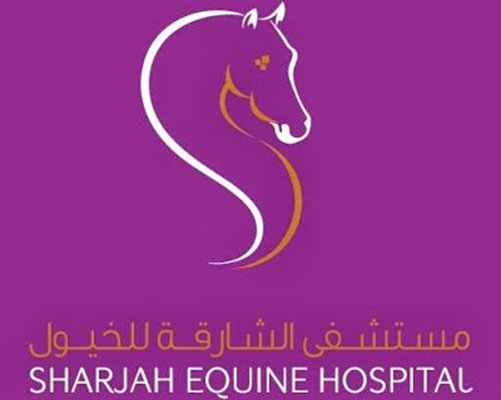 The prestigious Sharjah Equine Hospital provides all aspects of care to Al Zobair horses, including breeding and embryo transfers.